I truly can't help but look at everything in life from a competitive strategy perspective. I recall being introduced to Harvard Business Review (HBR); it was like meeting my long-lost family members. While on the New York subway one day, a passenger, we later become good friends and I am the best man in his wedding, introduced me to Michael Porter's Five Forces of Competitive Strategy. The lights went off in my head.  What I truly enjoy about HBR is if, you are a practicing businessperson or management consultant, the information is digestible. You'll understand it.
Competitive Strategy is about understanding the external dynamics of business that are out of your control, that you must be fluid enough to adapt to.  The Five Forces analysis can be used as a guide to help businesses establish a competitive strategy in a niche market.  If you couple this with Business Model Canvas, you are in the field goal range.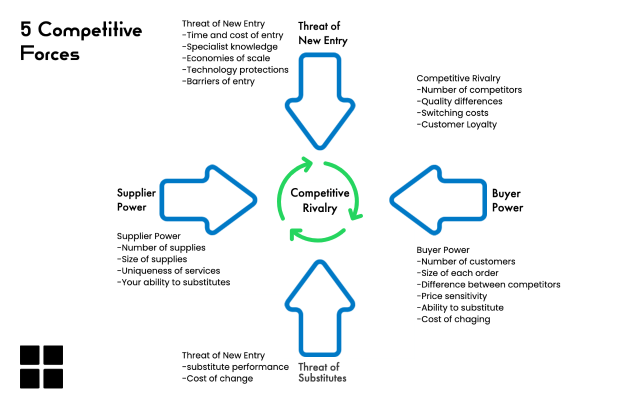 The Five Competitive Forces
The Five Forces model is widely used to help business owners and managers analyze the industry structure of a company as well as its business strategy.  By now I'm sure you're wondering what the hell does this have to do with purchasing a domain name?  A premium domain name will help you establish and maintain a competitive advantage.
A vast majority of businesses have a low barrier of entry; meaning they are easy to get into. Consider how many logistics, ride share, fintech, SEO marketing, accounting or dog walking companies that have sprung up over the past five years.  These and others have a lower barrier of entry; easy to get into.  Remember competitive strategy is all about keeping your competition at bay, where they cannot replicate your business model easily.  Guess what a great premium domain name can do just that.  Let's see if this is true.
Concept in Practice
Facebook's original name was FaceMash.  Just hearing it, I'm not sure if we are here to have sex (mash is a colloquial for sex) if I am hitting someone or will I be communicating with angry people.  How does the name FaceMash convey the idea of online social networking?  It doesn't.  But, a book of faces, like the old Polaroid picture books, but only electronically called Facebook does.  It really that simple.  Keep in mind, Facebook employed all the Five Force of Competitive Strategy.  Their strategy development and implementation did not stop at the purchase of a premium domain name.  They built out a business model that capitalize what was their business of the day; that business was connecting groups of people.  With their evolution, they are in the data mining business with their sights on virtual reality interface, hints Meta.
Your business name, now your domain name must:
Convey or imply what you do. The spirit of what you do.,
Speak lingo of your audience (the end user),
Be memorable; have an emotional attachment and,
Can you build a real brand around what you named your business? Consider when a domain name (business name) is more recognizable, it is the starting point to communicate with your customer.
Learn more about what makes a great domain here with Attribute.
Starting, operating, or pivoting in a business is hard enough.  Worrying about competitors only amplifies the condition. Position your business correctly online with a premium domain name that begins the process of setting you apart from competitors.